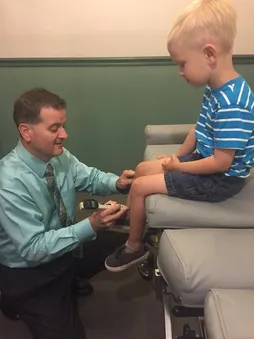 Dr. Notto has over 200 accredited hours in Acupuncture and Meridian Therapy. Acupuncture, originating from traditional Chinese medicine, is a health science which is used to successfully treat both pain and dysfunction in the body. Acupuncture is used to manage many conditions. Some conditions include: acute and chronic pain, migraine, tension cluster and sinus headaches, trigeminal neuralgia, bladder dysfunction, bed wetting, cervical pain, mid-back pain, shoulder pain, gastric problems, asthma, allergies, skin conditions, hemorrhoids, abnormal blood pressure, anxiety, addiction control, and for those who have suffered a stroke.
Acupuncture is an ancient Chinese medicine procedure used to alleviate pain and promote overall health. Acupuncture uses needles placed along meridians that run throughout the body. Today, acupuncturists also use lasers, magnets and electric pulses in addition to needles. Each meridian point has a specific therapeutic effect and can balance and normalize chi flow within the meridians or channels.. Through their work with the meridians, an acupuncturist is able to restore balance and therefore, health to the patient.

Acupuncture is used to treat a wide range of health problems, such as:
Persistent lower back pain
Chronic tension­-type headaches and migraines
Neck pain
Joint pain
Postoperative pain
Allergies
Depression and anxiety
Insomnia
Acupuncture takes a holistic approach to understanding normal function and and tone and its relation to the disease processes. It focuses as much on the prevention of illness as on the treatment.